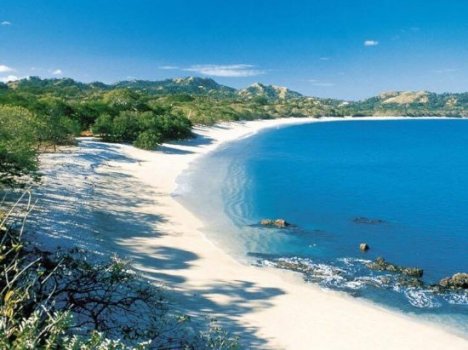 Welcome to Playa Conchal tours page
Costa Rica has dozens of gorgeous beaches, but what makes Playa Conchal so special? In one word, location. Playa Conchal is virtually cut off from the rest of the world. This is because to get there you either have to walk along the shore from the adjacent fishing village of Playa Brasilito or be a guest at the Westin Golf Resort and Spa. Although it does take a bit of effort, once you arrive, you'll be glad you did. Situated between two rocky points, Playa Conchal has calm, aquamarine water, which is great for swimming. To further entice, there are picturesque islets offshore and craggy cliffs on the far southern end. Activities: Available right on the beach in Playa Conchal are snorkel masks, jet skis, and kayaks. You can also rent beach chairs and umbrellas and there are usually vendors around selling pipas frias (cold coconuts), BBQ kabobs, and even frosty beers if you get thirsty for an Imperial. The beach usually isn't too crowded so there's plenty of room to lay down a towel, although shade on the sand can be sparse if you don't rent an umbrella. If you're looking for more to do, the area has plenty of other activities. Horseback riding, ATV tours, sunset cruises, sport-fishing, and scuba diving are all very popular.
Unique Activities : There are a couple of things around Playa Conchal to check out if you are looking for a fun and unique experience. The Beach Chocolate Factory is a great place where you learn how to make chocolate in a workshop.
Another fun and unique experience is to enjoy a glass of wine in an exciting art class at the Sage Brush Art Studio. Good for all levels of experience.
Shopping: There are a lot of great places to buy everything you need on the beach, jewelry, art craft, and many souvenirs to bring back to your family and friends. Once you get to Playa Conchal, there are multiple stands that sell beautiful hand made items and souvenirs.